Negotiations Update 02/18/2020
Call to Action!
Friday, February 21st
RALLY @ Green Valley and Main from 7-8AM and
AGAIN at the Freedom overpass at 3:30PM!
Wednesday, February 26th
Board Meeting @ City Council
RALLY in front of Library beginning @6
There will be sign-making and pizza!!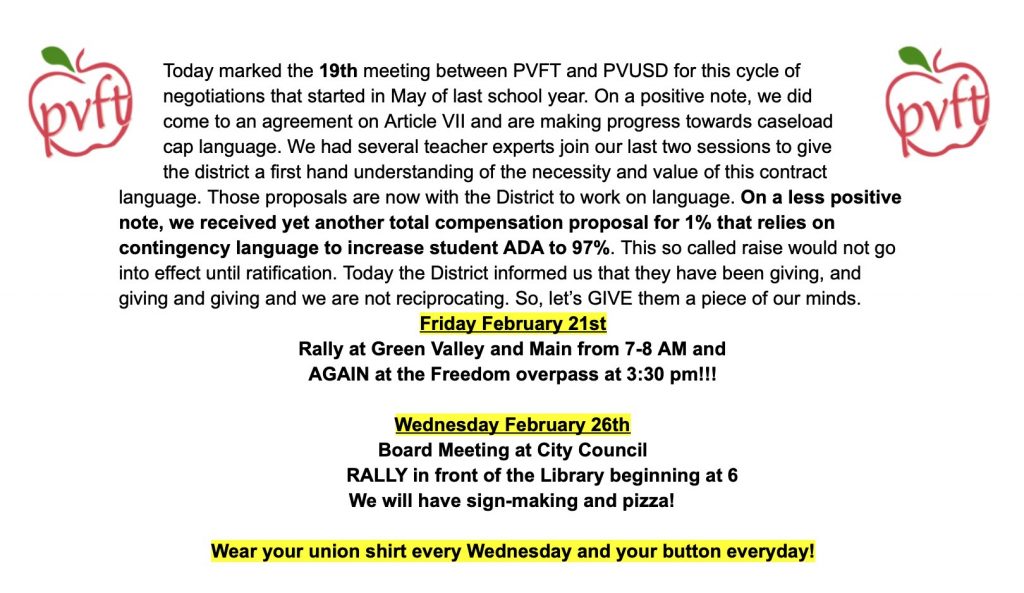 Today marked the 19th meeting between PVFT and PVUSD for this cycle of negotiations that started in May of last school year. On a positive note, we did come to an agreement on Article VII and are making progress towards caseload cap language. We had several teacher experts join our last two sessions to give the district a first hand understaning of the necessity and value of this contract language. Those proposals are now with the District to work on language. On a less positive note, we received yet another total compensation proposal for 1% that relies on contigency language to increase student ADA to 97%. This so called raise would not go into effect until ratification. Today the District informed us that they have been giving, and giving, and giving, and we are not reciprocating. So, let's GIVE them a piece of our minds.